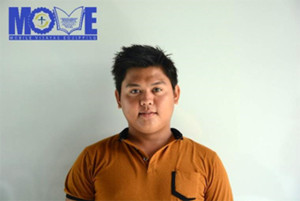 Before the Foundations for Christian Leadership (FCL) training, I thought our church was fine. We have regular churchgoers every Friday and Sunday. It's a normal church, but it has not been growing.
Most churches, pastors, and leaders may have a hard time recognizing their own problem. But just as Jesus came for the sick, I believe that FCL came to help churches not just to diagnose their sickness but also to realize their great potential to reach communities. Read More
My MC2 Experience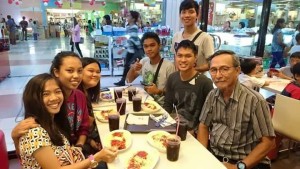 It was early in 2016 when I asked the Lord to lead me to whatever he wanted me to do in the ministry. At that time I was pastoring a small group of believers meeting at a small hotel every Sunday.
It was also then that the International Care Ministry (ICM) introduced the MC2 or Multiplying Churches and (Faith-Based) Communities in our area. I decided to join, hoping that the Lord will guide me to a certain direction, and my hope was right. The program was indeed God's way of leading me to a new kind of experience. It set forth a desire in me to launch MC2 into motion. Read More
Pastors Receive Training Without Leaving Church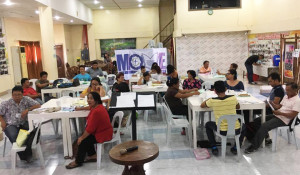 It's the end of another day and Pastor Daniel Castillo, a Foundations for Christian Leadership (FCL) teacher, approaches his students after class. He shakes hands with them and tries to get to know them better. One of the students, Ryan (not his real name), is a young pastor in Leyte. Read More
Why I Serve Through FCL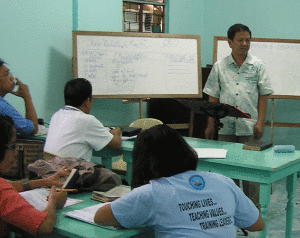 I became a Christian through the ministry of Campus Crusade for Christ (CCC) back when I was in college. On September 7, 1973, I received Christ as my personal Savior and Lord inside the University of the Philippines (UP) theater while watching a magic show by Andre Kole. Read More
Words From the Word
"I hate stories!" This is a statement rarely made. Stories are well accepted and appreciated by most, especially when they are clear, short, filled with adventure, and packed with at least one lesson. Stories appeal to people no matter what their age or educational attainment is. Read More
Words From Lucena
FCL is expanding its influence, and many pastors and workers are benefiting from this training. It's a great help for them personally and for their ministries. On December 2010, the FCL team went to Lucena to conduct training for pastors and lay leaders who were willing to invest their time and energy in the ministry. Read More
Words From Nepal
Sixteen pastors have completed all three modules of FCL training this year (what year?). We conducted one module of training every year, and it took three years to complete all three modules of the curriculum. Fifty more pastors are taking the FCL training. Some of them have just began this year. Read More
Serving Fellow Workers in the Ministry Through FCL
Before knowing Jesus, I perceived myself as a typical person. I supposed that my drinking, smoking, womanizing and cussing were typical, light stuff. I thought that these things didn't matter because I helped in our family business and served in the church choir anyway. But things began to change when I received the Lord on February 3, 1985… Read More
---