It's the end of another day and Pastor Daniel Castillo, a Foundations for Christian Leadership (FCL) teacher, approaches his students after class. He shakes hands with them and tries to get to know them better. One of the students, Ryan (not his real name), is a young pastor in Leyte. Pastor Dan found out that he and Ryan came from the same province – Bulacan. When asked how he ended up in Leyte, Ryan shared that he was invited to take over the ministry because his wife is from Leyte, and he personally knew the previous pastor of the church. (Apparently, the previous pastor left when he got depressed after his wife died.)
"Were you an assistant pastor in Bulacan?" Pastor Dan asked, curious to find out what qualified him to be chosen.
"No, I helped in setting up the sound system," Ryan replied.
The Challenge of Equipping Pastors
Ryan is one of many pastors in the Philippines who started volunteering in church as a layperson. He has no formal training on how to study and preach God's Word effectively, how to lead a church, how to disciple, etc. And yet, he is now the pastor of a church in Leyte. Ryan has the heart to shepherd God's children. But he needs equipping. That's why he is very grateful for FCL, an off-campus modular training program of IGSL, designed to equip pastors and lay leaders with basic biblical knowledge and practical ministry skills.
FCL in Eastern Visayas
From March 20-31 and from April 17-28, 2017, Ryan and more than 60 other Christian leaders in Palo and Tolosa, Leyte attended the first and second modules of FCL. With the help of Pastor Dan and three other pastors, these leaders are getting the training they need without having to leave their families and ministries. They are benefiting not only from the principles shared but also from the ministry experience of their teachers.
By June 16, 2017, the participants in Tolosa will have graduated after finishing the third module while those in Palo will complete their training in July. A new FCL site is also set to start in Samar on June 5, 2017.
Continuous Equipping with the Help of Partners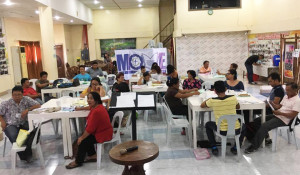 Training these church leaders does not end when they graduate. The FCL team partnered with Samaritan's Purse, a Christian humanitarian aid organization, to help the FCL graduates in Leyte reach out and disciple their kababayans. In the future, FCL staff plan to coordinate with Campus Crusade for Christ regional leaders in conducting follow-ups in various FCL sites all over the Philippines.
For more information, conference bookings or FCL presentations, please contact Mr. Tani Holgado (FCL Administrator) at (02) 454-4546 TO 49 (loc 237) or send an email to fcl@igsl.asia / cholgado@igsl.asia.