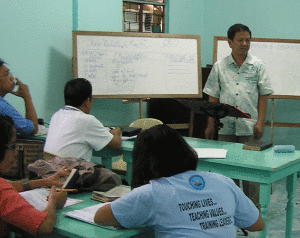 I became a Christian through the ministry of Campus Crusade for Christ (CCC) back when I was in college. On September 7, 1973, I received Christ as my personal Savior and Lord inside the University of the Philippines (UP) theater while watching a magic show by Andre Kole.
Just before the program ended, I heard a clear presentation of the gospel and decided to commit my life to Jesus.
After that event, I was nurtured in my Christian life through a Bible study led by one of the student leaders of UP-CCC. Right after my college studies, I joined CCC as a full-time staff. It's been an adventure serving the Lord, hoping to see the Great Commission fulfilled in my generation.
It has been my joy to see lives being changed by the gospel, because I experienced it myself. God continues to sharpen the rough edges of my life as I continue to enjoy Him through my service to Him. It has been my passion to teach and equip workers and church leaders in the harvest field. Thus, I joined FCL.
My desire is to see many laborers be equipped and trained in ministry skills and character development. I want to impart all the things, principles, and life experiences in serving God with my students so they can learn and appreciate what it means to serve the Lord. I praise and thank God that as I teach the different sessions of FCL, I, myself, am being sharpened and developed in my God-given gifts of teaching, counseling, and leading others for the expansion of God's Kingdom. To God be the glory!
Please pray for wisdom, physical strength, and additional ministry partners (prayer and financial partners) who will back me up in my ministry of equipping and training workers in His vineyard. Pray also for my family, my wife Bel and my three children (Joshua, Janna, and Josiah) – for good health and strength.