"My husband would kneel before me and weep. I was his biggest source of sadness. I criticized everything he did. My parents would even yell at me for treating my pastor-husband the way I did. I hated his being a pastor for 14 years."
Lourdes (not her real name) is a pastor's wife who had just graduated from Partners in Ministry Extension (PIM Ex) fourth generation batch in Ilocos Norte last March 18. She told us her story in between silent moments when she would shed tears of sorrow and repentance. She was deeply grateful to God for all that she learned and the transformation God did in her life through PIM Ex. She was being invited to attend a PIM Ex class for three years and only on the third year did she agree to attend. She graduated with joy last Saturday. Her husband could not thank us enough for PIM Extension.
This is one of many similar stories told by pastors' wives who have completed the 30-week small group setting of a discipleship class exclusively for wives of men in ministry. As of today, 350 pastors' wives, including 11 from Thailand, have graduated from the certificate program.
This month of March was an amazing one filled with events every week. On the last weekend of February, Cynthia Roxas, a PIM faculty, trained 15 PIM Ex graduates on how they, too, can facilitate their own classes and disciple pastors' wives for the second generation of PIM Ex Christ's Commission Fellowship Southern Luzon.
On March 4, Leah Darwin, director of PIM Ex, together with her husband, launched the second generation of CBAP (Conservative Baptist Association of the Philippines) Cavite PIM Ex classes where 40 pastor couples attended. These pastors were challenged to finish well. Leah also introduced PIM Extension to the pastors and wives. Five classes were birthed from this training.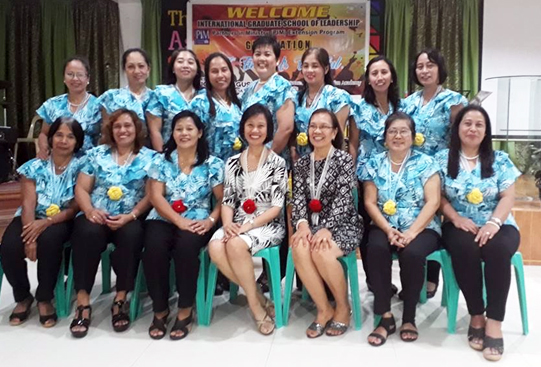 March 11 found Michelle Agustin, another PIM faculty, and Grace Bumanglag (Coordinator for Northern Luzon PIM Ex) traveling six hours to Bayombong, Nueva Vizcaya where 12 pastors' wives graduated from the first batch. Five of these graduates committed to disciple other pastors' wives as a result of what God has done in their own lives.
One of the Bayombong graduates' pastor-husbands said:
"My relationship with my wife is so much better now, sweeter than before. This program is different, so unique, and holistic in its approach, not just making an impact in the ministry. It even enhanced my wife's relationship with our children. She is much tender and sweeter now, and she is my encourager today. This is why we need to pray for PIM Ex because it is a blessing! We need to encourage other pastors and wives. It truly is a blessing!"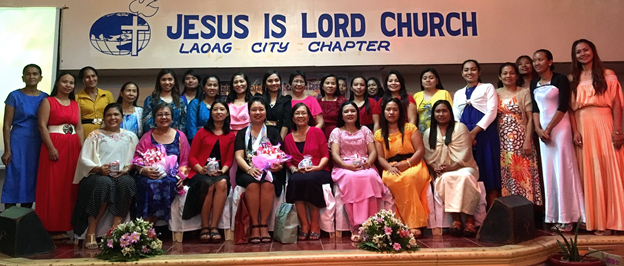 A week later, Leah, Grace, and two IGSL PIM students from Sri Lanka and Vietnam drove 12 hours north to Laoag City where the fourth generation of PIM Ex women graduated! Twenty-three completed the program. Four of these ladies committed to reaching out to fellow pastors' wives in even farther areas of Abra, Candon, and Laoag.
There is no stopping the Lord in this movement He is creating among wives of men in ministry. This coming June, the second generation of PIM Ex students in Khon Kaen, Thailand is set to graduate. On February 2018, Lord willing, Sri Lankan PIM graduates will also launch PIM Ex in their country. Moreover, YES I'M A PASTOR'S WIFE, the PIM Ex textbook, has already been translated into eight languages: Tagalog, Indonesian, Nepali, Vietnamese, French, Sri Lankan, Burmese, and Thai.
Bless the Lord for all He has done and all He is doing in the lives of pastors' wives. We believe they are key to reaching the world for Christ because every pastor's wife represents a local church pastor's family, which reaches out to their community. And if communities are won for Christ, a whole country can be reached for Jesus.
By Leah Darwin (Director, Partners in Ministry Extension)
For more information about PIM Extension, you may contact Mrs. Grace Ordiz (PIM Extension Secretary) at 454-4546 to 49 or send an email to gordiz@igsl.asia.
---