Becoming Partners in Ministry Class Special Dinner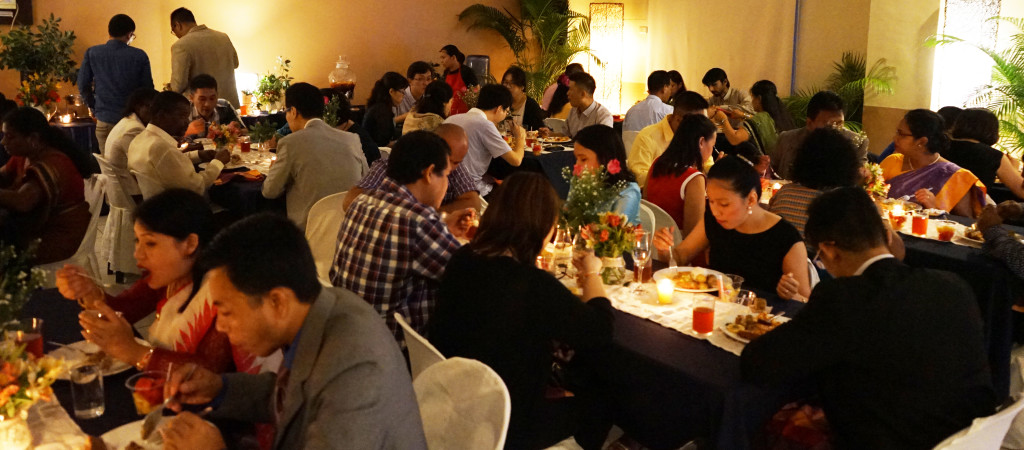 In a room full of couples dressed semi-formally, PIM* faculty Maan Mamburam, host of the special evening and teacher of the class Becoming Partners in Ministry (BPIM), smiled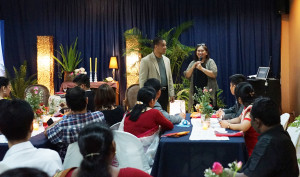 sweetly as she asked, "When and how did the two of you meet?" With some teasing, and some thinking, couples eyed their spouse as if to say, "You should know the answer to that one!"
Several more questions followed after that. By the end of the game, everyone was laughing as husbands and wives compared their answers.
At the beginning of the school year, the first course that welcomes every first year PIM student is Becoming Partners in Ministry. This class is specially designed to look into the unique challenges and needs of the wife of a man in ministry, and to present Biblical ways of responding to these challenges. Every year, as part of the BPIM course, a special dinner is held to include the husbands in a class session addressing both husband and wife. A special part of the evening is also intended for the wives to honor their husbands.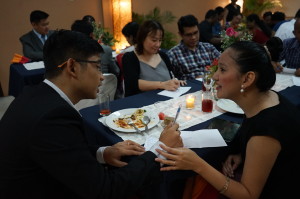 On July 31 this year, held in a simple conference room turned into a five-star restaurant for the night, the couples enjoyed a sumptuous meal amidst good conversation and jazz music. The theme chosen for the evening was "Enriching Your God-Given Partnership" to emphasize the importance of building a leader's marriage relationship.
Partners in Ministry, Partners in Life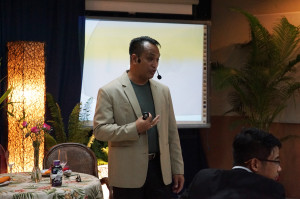 In his message to the couples, Dr. Neil Mamburam emphasized being partners in life, not just being partners in ministry. He encouraged them to pursue serving the Lord and growing old together.
The romantic evening concluded with the wives giving their husbands a surprise token which they lovingly began crafting at the beginning of their BPIM class.
Year after year, most of the husbands would be touched upon receiving their wife's special creation of love. A few would even be teary-eyed. No wonder this special night always turns out to be one of the course's highlights.
Before going home, the couples prayed together, expressed their love, and reaffirmed their commitment, not just to each other, but also to the One who called them to be partners in life and in ministry.
MORE PHOTOS HERE
*Partners in Ministry (PIM) is a certificate program that aims to train women how to minister beautifully alongside their husbands.