by Jamie Landayan, 2nd Year Student

On March 16, 2018, the Student Council (SC) held a pot bless dinner in partnership with Dr. Mona Bias's Hebrew class. Former Student Council secretary Allen Joy Anteg said, "We aim for creating a homey place for everyone." Thus, the SC organizes such gatherings as the pot bless to achieve this. It was indeed a special evening for the community to celebrate the ending of the final trimester of school year 2017-2018.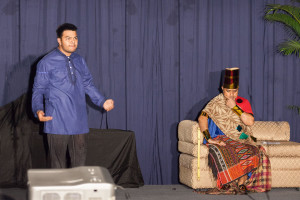 After the meal, Dr. Mona Bias's Hebrew class presented a play to showcase what they have learned from the life of Daniel in the Old Testament. Kim Dingli, a freshman student, commented, "It was presented creatively.
They were able to portray the transitions of the four kings clearly and showed Daniel's role in each of their reign." Faculty member Suzanne Heyd said that "the play was a delight, from the informative and immersive script to the tende score of original and popular music."
The performers had a great experience too. One of the cast members, second year student Jericho Mabansag, shared, "Playing Shadrach in the musicale was an act of worship. Every word I sang was worship to the Lord."

The gathering was truly a great experience for everyone and a purposeful effort to build not just a community but a family of God that He has gathered together in which leaders grow holistically.
---