The Covid-19 pandemic has brought about so much change. From how we manage our personal routines to how we work or study to how leaders run companies, cities, and countries. And Christian leaders, who used to constantly meet people in small groups or big gatherings, have struggled to keep connections strong during the pandemic. Leading has always been hard, but last year was especially tough.
Eden David, a Partners in Ministry alumna and full-time first-year degree student, is a pastor's wife and mother of two. A typical day in 2020 for her included overseeing the schooling of their first child, breastfeeding their newborn, doing chores, helping her pastor husband, July (also an IGSL alumnus), in encouraging their struggling church members, and studying at night for a master's degree, among others. Studying at IGSL was an answered prayer as she had been praying to grow more, personally and as a leader, but many times she wanted to quit because of the challenges of her many roles and the limitations brought about by the pandemic.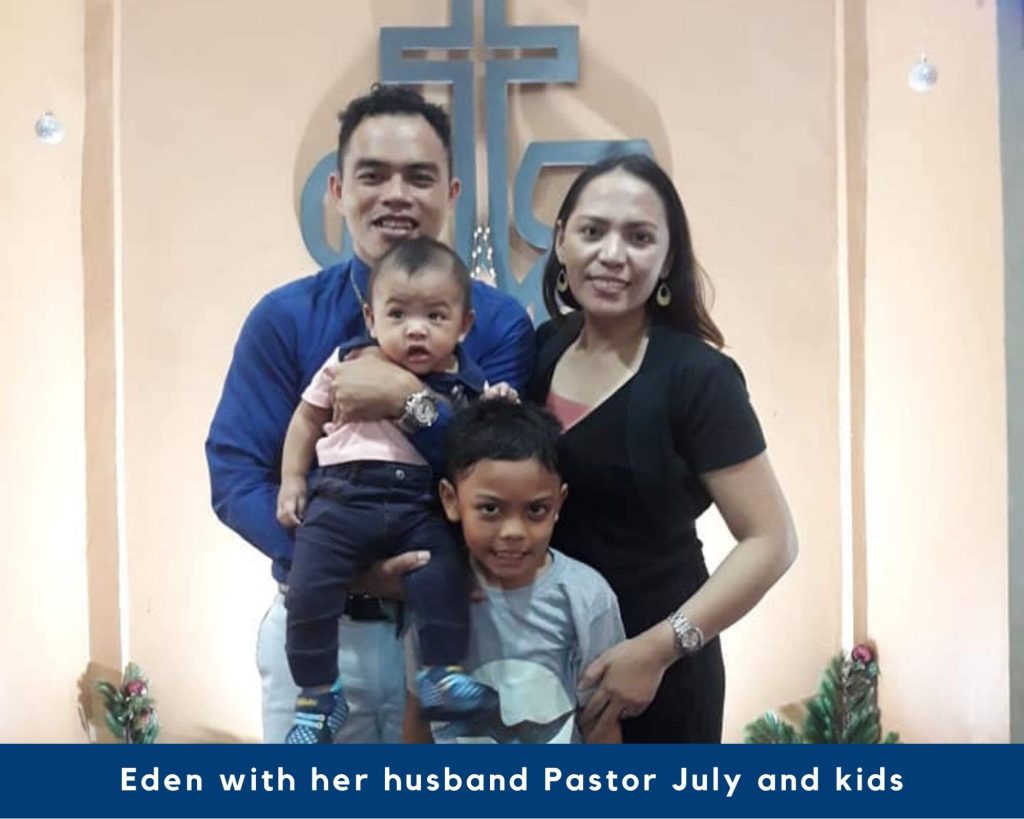 Wilnie the man of peace
But it is in this challenging season that she experienced breakthroughs in her life and ministry. Her brother, Wilnie, who accepted Christ last year when she shared the gospel with him before moving to a new workplace in Laguna, wanted to share the same message of hope to his officemates. She then taught him how to share the gospel using the 4 Spiritual Laws. Because of limited internet access in Laguna, Eden typed out principles and instructions and sent them through text messaging. It took her roughly three hours to do this, but it was more than worth it. Twenty souls were harvested for Jesus. Wilnie also wanted to disciple these new brothers and sisters in Christ. He went back to Quezon City on weekends when Eden and Pastor July taught him the Obedience-Based Bible Study (OBBS), something they have learned at IGSL.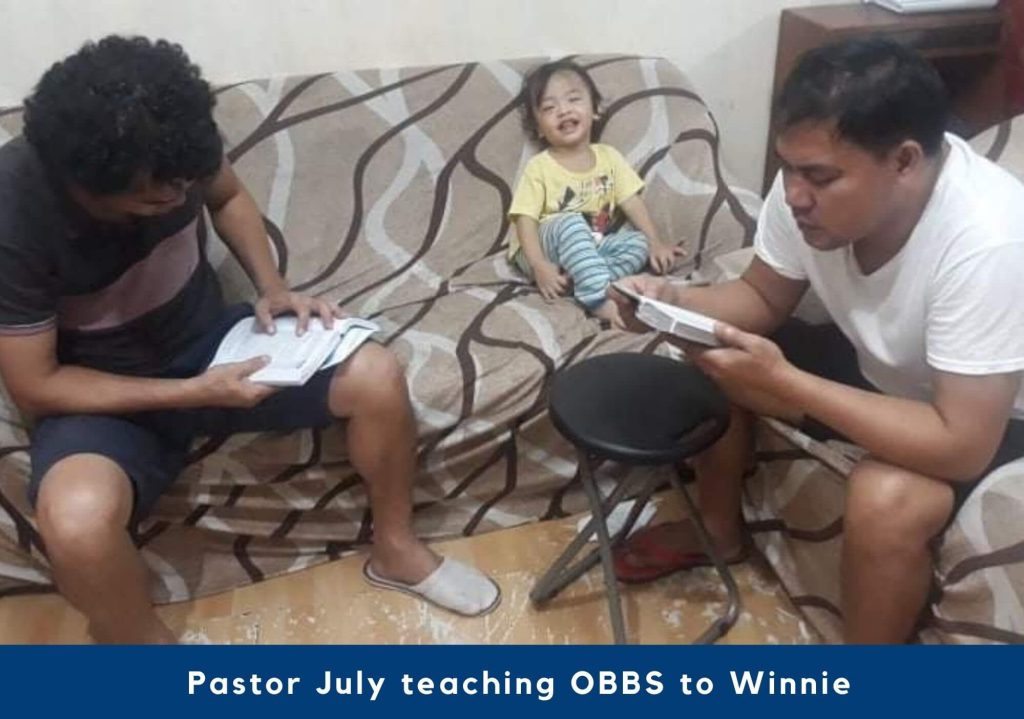 Wilnie began sharing God's word through OBBS and what was planned as a weekly meeting became daily. Every morning for 30 minutes to an hour, they would study the Bible before clocking in for work. Employees who used to waste time on social media at the start of the day and constantly complained about many things slowly became united and worked well together. Their employer was happy with the improved working atmosphere and became a strong supporter of the daily Bible Study group.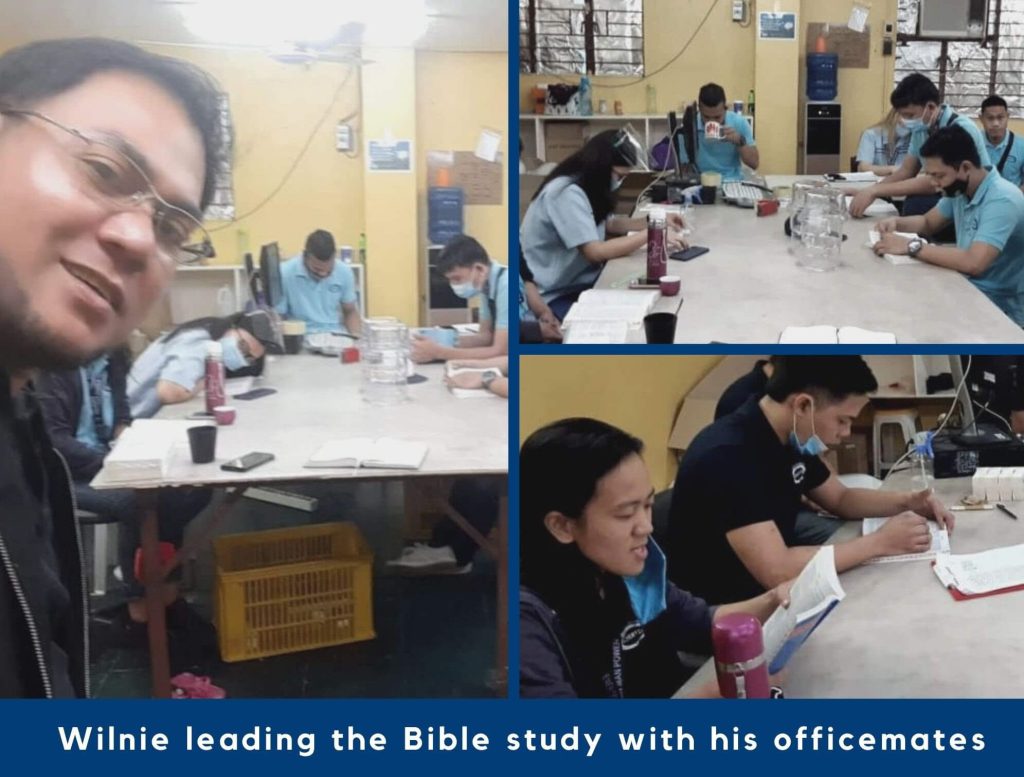 After that, Wilnie also wanted to reach out to the community around their workplace. Again, Eden taught him and helped him strategize, this time in sharing Bible stories with children so he could reach out to their families as well. During the first meeting, he gathered and got to know the children in the community. A week later, he shared the story of Zacchaeus while their parents were also listening nearby. Eighty children accepted Christ into their lives in that second meeting. He also started connecting with the parents, especially during their Christmas celebration when the kids brought their families and they received clothes and noche buena food packs.
In the next few weeks, Wilnie and his workmates will continue to reach out to the parents in the community. They are greatly encouraged by the ongoing support of their employer who sponsored the food and gifts for the families last year. Pastor July will initially help in leading this company-based church. They have also asked for help from their denomination to send a pastor who will eventually lead the church and community outreach.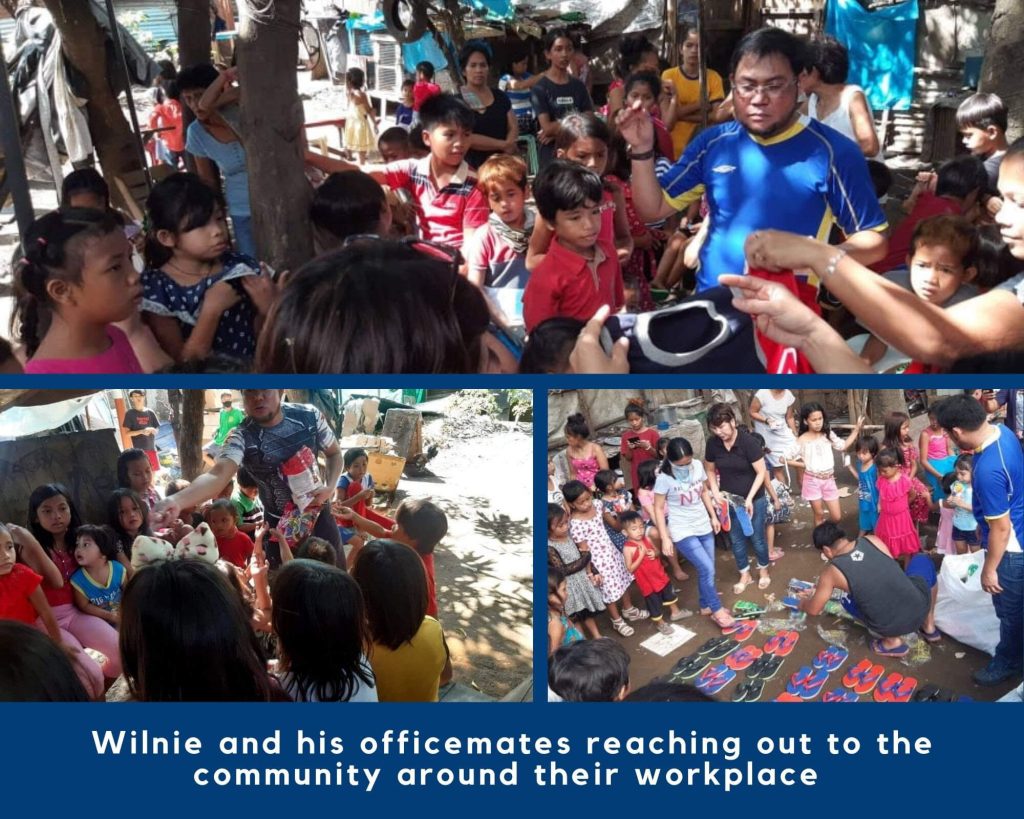 Pastor July partnering with an IGSL alumnus
This is just one part of the surprisingly abundant fruit that Pastor July and Eden gathered from ministries that God opened up to them last year. Working with another IGSL alumnus who is also his close friend, Pastor July shared the gospel and started discipling a veteran actor. He had heard the gospel before, but this time became truly committed to growing as a follower of Christ. Within a few weeks, he brought his guitarist and movie producer to Christ with the help of Pastor July. He also opened his house as a gathering place for worship services. Every weekend, Pastor July shares the message with his whole household including his guitarist and other artist friends while he leads them in singing worship songs that he, himself, composed.
Simbahay
Two other house churches, which they call simbahay (from simbahan [church] and bahay [house]), were miraculously planted and grew last year. One was through a church member that they discipled and counseled, who used to be a drug user and pusher. Now he leads a Simbahay with 15 people in Bulacan. Another was through a member living in a slum area who couldn't attend their online services. They challenged him to lead in their place, so he started a Simbahay among his family and relatives. It's only the pandemic restrictions that hindered them to grow in number, but they are continuing to grow in the Lord.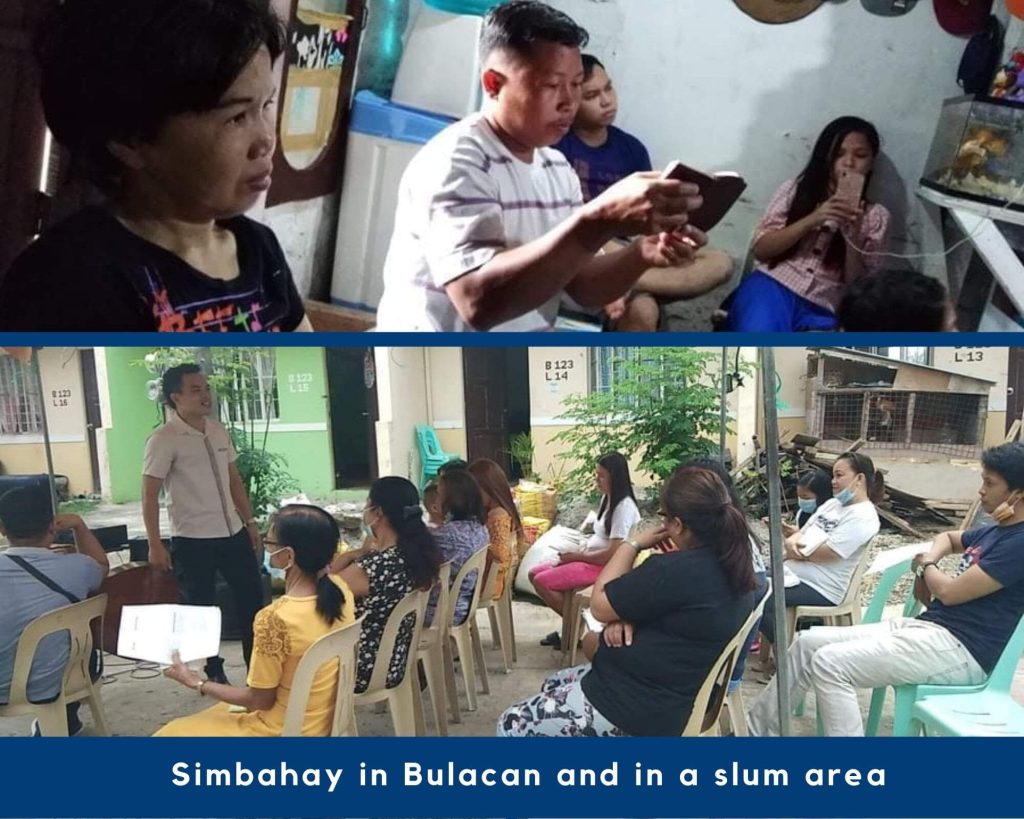 Ministering to typhoon victims
Then in November 2020, after the typhoons and floods, one of their acquaintances in Montalban asked them for help. At first, Pastor July and Eden couldn't imagine how they could help as their own house was damaged. There was no water and electricity at that time and Eden was having a hard time doing her school requirements. But again, they prayed and strategized. Eden wrote to their barangay captain to ask if they would like to partner with their church in helping flood victims in Montalban. She also raised funds while she and Pastor July formed and led a mission team composed of their church members, barangay personnel, and those from Montalban. Through the significant financial support raised and with their able team, they ended up helping 1,200 people in Montalban. In the coming weeks, they will go back there to continue building relationships with men of peace they have identified last year and to share the gospel with the families in Montalban.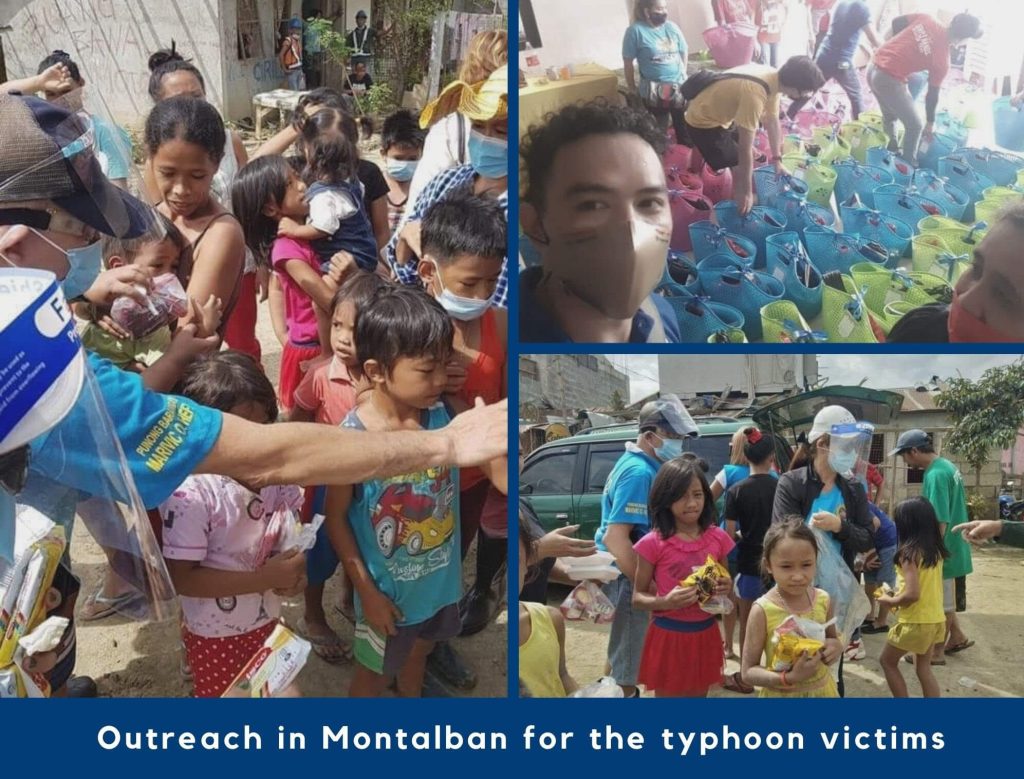 Eden is grateful for everything that God has done in and through their family. Through her struggles as a pastor's wife, mother, minister, and student, she experienced God's power made perfect in her weakness as she depended on His leading and enablement. "My husband and I are a team. We have caught the mission, vision, and passion shared with us in IGSL, which we put into everything we do and share with everyone we work with," she said. Eden is also glad that their struggling church members who have seen them mobilize, equip, and serve God's people even in the midst of difficulties became fired up for the ministry. "Please pray with us for a pastor to be sent to Laguna and that many will join our team to serve in these various ministries."
Update: As of February 5th, Eden shared that 20 TESDA sites have been opened in different places throughout Luzon by their ministry partner and fellow IGSL alumnus. These vocational skills training sites will become marketplace mission fields for Pastor July and Eden. They are planning to partner with IGSL so that these TESDA centers can become Target Area Ministry sites for students.