It takes a village to raise a child.
"It takes a village to raise a child." – African Proverb You must have read or heard this African proverb that it takes a village to raise a child. Somehow, this is also true in student and school environments too. A village is a community of "people that includes parents, siblings, extended family members, neighbors, teachers, professionals, community members and policy makers who provides a safe, healthy environment for children, where children are given the...
Read more
Alumni
Hello, IGSL Alumni!Here's what you need to know about the audit courses for the First Semester of AY 2020-2021, designed just for you! (1) There are limited slots per course (see each course details in the registration link), but there is NO LIMIT as to the number of courses you may take, as long as there are available slots. Hence you need to indicate your preferred courses according to priority (first/2nd/3rd choice, etc) (2) Registration...
Read more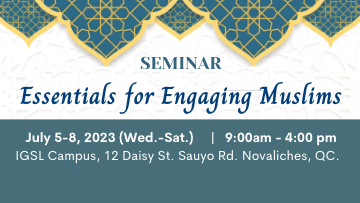 IGSL is pleased to offer this seminar on Essentials for Engaging Muslims. Dr. Mark brings considerable expertise as well as a heart of deep compassion to the task of making disciples in the Muslim world. IGSL students who attended his seminar in 2019 found it life-changing. Register now https://forms.gle/YDMcyPBHTXHreoZP7