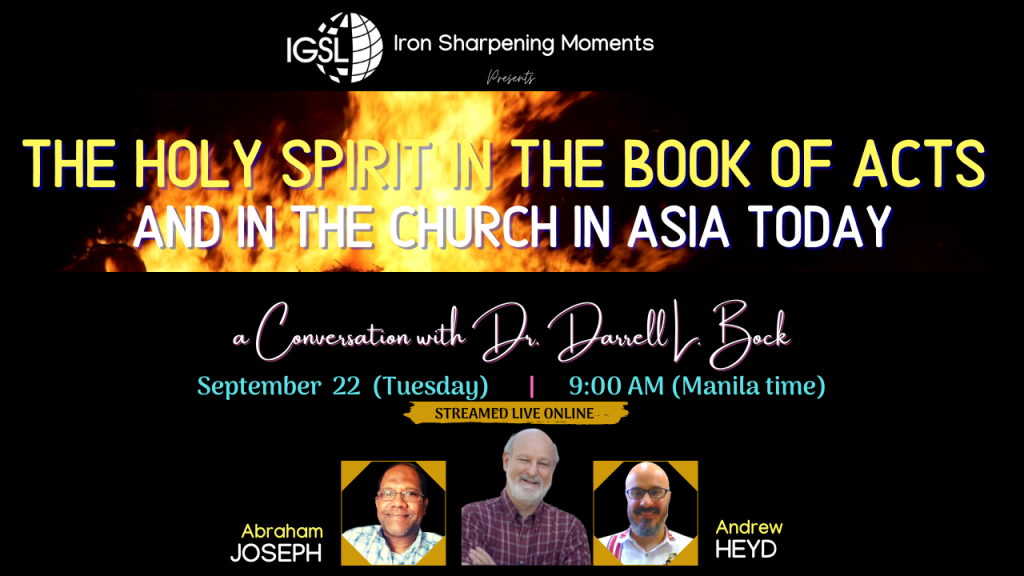 ℙ𝕚𝕔𝕥𝕦𝕣𝕖 𝕥𝕙𝕚𝕤: a Biblically-rooted Christian thinker who discerns strategic connections between his faith and cultural context for effective witness to Christ. Every maturing believer should desire to be one, more so, Christian leaders.
IGSL's Iron Sharpening Moments brings to you on September 22 yet another topic of importance for anyone who desires to grow beyond being an average student of the Bible – A webinar to understand the person and work of 𝐓𝐡𝐞 𝐇𝐨𝐥𝐲 𝐒𝐩𝐢𝐫𝐢𝐭 𝐢𝐧 𝐭𝐡𝐞 𝐁𝐨𝐨𝐤 𝐨𝐟 𝐀𝐜𝐭𝐬 𝐚𝐧𝐝 𝐡𝐢𝐬 𝐜𝐨𝐧𝐭𝐢𝐧𝐮𝐢𝐧𝐠 𝐰𝐨𝐫𝐤 𝐢𝐧 𝐭𝐡𝐞 𝐀𝐬𝐢𝐚𝐧 𝐂𝐡𝐮𝐫𝐜𝐡 𝐭𝐨𝐝𝐚𝐲.
Join IGSL's professors Andrew Heyd and Abraham Joseph, in an hour of in-depth conversation with the renowned biblical scholar, and Executive Director of Cultural Engagement and Senior Research Professor of New Testament Studies at Dallas Theological Seminary, 𝐃𝐫. 𝐃𝐚𝐫𝐫𝐞𝐥𝐥 𝐋. 𝐁𝐨𝐜𝐤. Participants will also have the opportunity to ask questions during the webinar.
TOPICS INCLUDE
✅ The Story of Acts in the Storyline of Scripture
✅ The Contribution of the Book of Acts to the Doctrine of the Trinity
✅ The Spirit and the spirits in Acts and the Church Today
✅ The Spirit and the Growth of the Church in the Book of Acts and the Majority World Today
✅ The Spirit, Pentecostalism, and the Churches of the Global South
Both IGSL students enrolled in Biblical and Theological Studies Foundation courses, and anyone interested in gaining a deeper understanding of the Scriptures and the work of the Holy Spirit in the life of the church will greatly benefit from this webinar. 𝗣𝗹𝗲𝗮𝘀𝗲 𝗶𝗻𝘃𝗶𝘁𝗲 𝘆𝗼𝘂𝗿 𝗰𝗵𝘂𝗿𝗰𝗵 𝗺𝗲𝗺𝗯𝗲𝗿𝘀 𝗮𝗻𝗱 𝗳𝗿𝗶𝗲𝗻𝗱𝘀.
September 22, 2020 | 9:00-10:00 AM (PST) | Streamed Live Online! | No registration needed.
Facebook Reply: click here