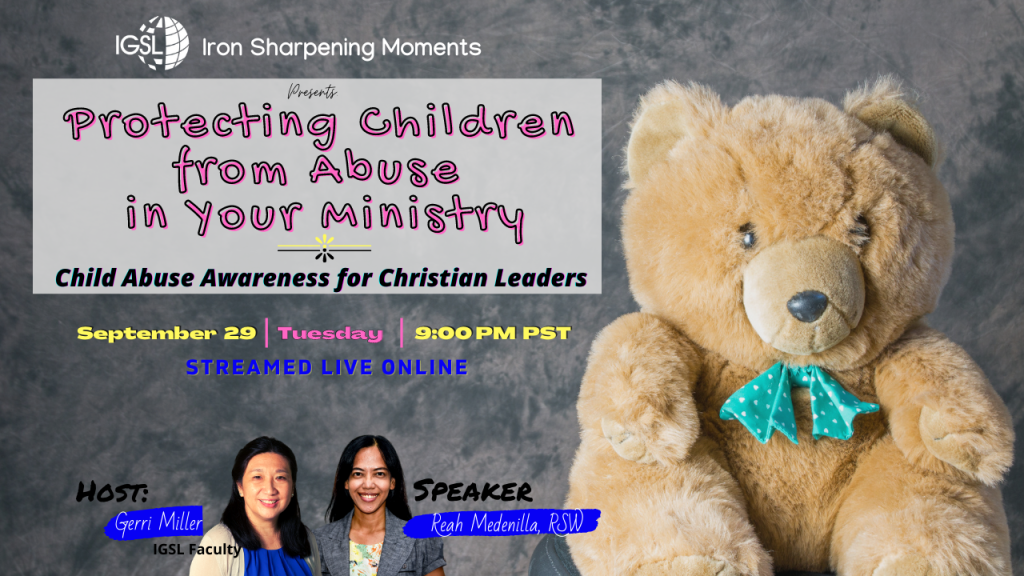 As Christian leaders, we need to lead the way in reflecting God's heart toward children by protecting them from harm. But, unfortunately, some Christian leaders have done the opposite by either turning a blind eye, shifting the responsibility to someone else or becoming the one who secretly harms a child. The current pandemic wherein most church ministries are done online does not make it any safer for children.
In recent years, God has raised up Christian leaders who have shown light in the darkness of grave sins against children in a ministry context. Children are being rescued and incidents prevented.
𝗔𝗿𝗲 𝘆𝗼𝘂 𝗮𝗻𝗱 𝘆𝗼𝘂𝗿 𝘀𝘁𝗮𝗳𝗳 𝗲𝗾𝘂𝗶𝗽𝗽𝗲𝗱 𝘁𝗼 𝗽𝗿𝗼𝘁𝗲𝗰𝘁 𝗰𝗵𝗶𝗹𝗱𝗿𝗲𝗻 𝘂𝗻𝗱𝗲𝗿 𝘆𝗼𝘂𝗿 𝗰𝗮𝗿𝗲? 𝗪𝗵𝗮𝘁 𝗶𝘀 𝘁𝗵𝗲 𝗰𝗼𝘀𝘁 𝘁𝗼 𝘁𝗵𝗲 𝗰𝗵𝗶𝗹𝗱 𝗮𝗻𝗱 𝘁𝗼 𝘆𝗼𝘂𝗿 𝗺𝗶𝗻𝗶𝘀𝘁𝗿𝘆 𝗶𝗳 𝘆𝗼𝘂 𝗳𝗮𝗶𝗹 𝘁𝗼 𝗱𝗼 𝘀𝗼? Find out thru this one-hour webinar with Child Safety advocates and practitioners, Gerri Miller and Reah Medenilla.
Join us as we discuss this vital topic for every Christian leader.

What makes children unsafe?

How can we keep children safe?

What do we do if we suspect a child is unsafe?

Why does keeping children safe matter?
𝐌𝐚𝐫𝐤 𝐲𝐨𝐮𝐫 𝐜𝐚𝐥𝐞𝐧𝐝𝐚𝐫 𝐚𝐧𝐝 𝐬𝐡𝐚𝐫𝐞 𝐰𝐢𝐭𝐡 𝐲𝐨𝐮𝐫 𝐧𝐞𝐭𝐰𝐨𝐫𝐤.
September 29, 2020 (Tuesday) | 9:00 PM PST | 𝙎𝙩𝙧𝙚𝙖𝙢𝙚𝙙 𝙇𝙞𝙫𝙚 𝙊𝙣𝙡𝙞𝙣𝙚! | No registration needed!
OUR HOST:
𝐆𝐞𝐫𝐫𝐢 𝐌𝐢𝐥𝐥𝐞𝐫 has served as IGSL faculty since 1996. Her passion is to help the body of Christ stay connected to God's heart for children. She is currently the Marriage and Family Development Coordinator and Child Safety Coordinator for IGSL.
OUR RESOURCE PERSON:
𝐑𝐞𝐚𝐡 𝐌𝐞𝐝𝐞𝐧𝐢𝐥𝐥𝐚 has been working with families, children, and youth as a Registered Social Worker since 2003, and has been focusing on child protection since 2012. She conducts training for local churches and Christian ministries to help them prevent and respond to child abuse in a God-glorifying way. She co-founded the Child Protection Impact Squad along with a group of Christian child protection practitioners. She is currently the Child Safety Coordinator for Faith Academy-Manila.
Facebook reply: here