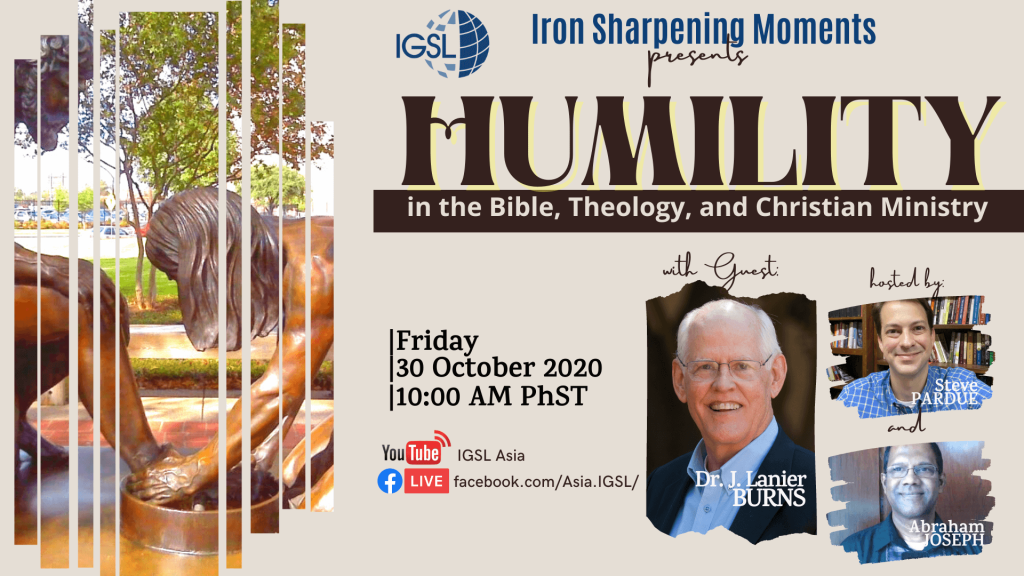 Humility is a much desired but often misunderstood and absent virtue in Christian life and practice. Join us for an hour of discussion on the biblical, theological, and practical aspects of humility.
We will address questions such as:
Is humility one of God's perfections/attributes?
Humility, both in ancient and modern times, has been seen as an impediment to pursuing greatness or excellence. Yet, our great and most excellent Lord is humility personified. How do we reconcile the pursuit of humility and the pursuit of excellence?
Benedict and Bernard offer practical models of cultivating humility in their rules in imitation of Christ. What would cultivation of humility look like today, especially in Christian ministry?
In most places in the world, humility is considered a virtue to be admired. What is behind the rise, notable in both Western and Asian culture, in public figures who seem to repudiate humility? Is there an appetite for rejecting humility that they are catching on to?
With Guest:
J. Lanier Burns
Research Professor of Theological Studies, Senior Professor of Systematic Theology
PhD University of Texas Dallas, ThD Dallas Theological Seminary
Dr. Burns is actively involved in administration in Christian and secular organizations. He also devotes time to writing, conferences, and pastoral leadership. He has been involved in post-doctoral research at Harvard and Oxford Universities. For over forty years he has served as president of the Asian Christian Academy in Hosur, India. He has participated in numerous neuroscientific activities for about fifteen years. His research interests include Trinitarianism, anthropology, sin, eschatology, the relationship of science and religion, and issues in social justice. He spends his spare time with his family and enjoys sports. He and Kathy have four children and 11 grandchildren.
Publications Include:
Pride and Humility at War: A Biblical Perspective
The Nearness of God: His Presence With His People
Exploring Christian Theology: Creation, Fall, and Salvation (Contributor)
Three Central Issues in Contemporary Dispensationalism: A Comparison of Traditional and Progressive Views (Contributor)
Save the date and be sure to watch. Invite your friends too! 𝐅𝐫𝐢𝐝𝐚𝐲 | 𝟑𝟎 𝐎𝐜𝐭𝐨𝐛𝐞𝐫 𝟐𝟎𝟐𝟎 | 𝟏𝟎:𝟎𝟎𝐀𝐌 𝐏𝐡𝐢𝐥 𝐓𝐢𝐦𝐞 Streaming live via IGSL's
FACEBOOK PAGE
YOUTUBE CHANNEL