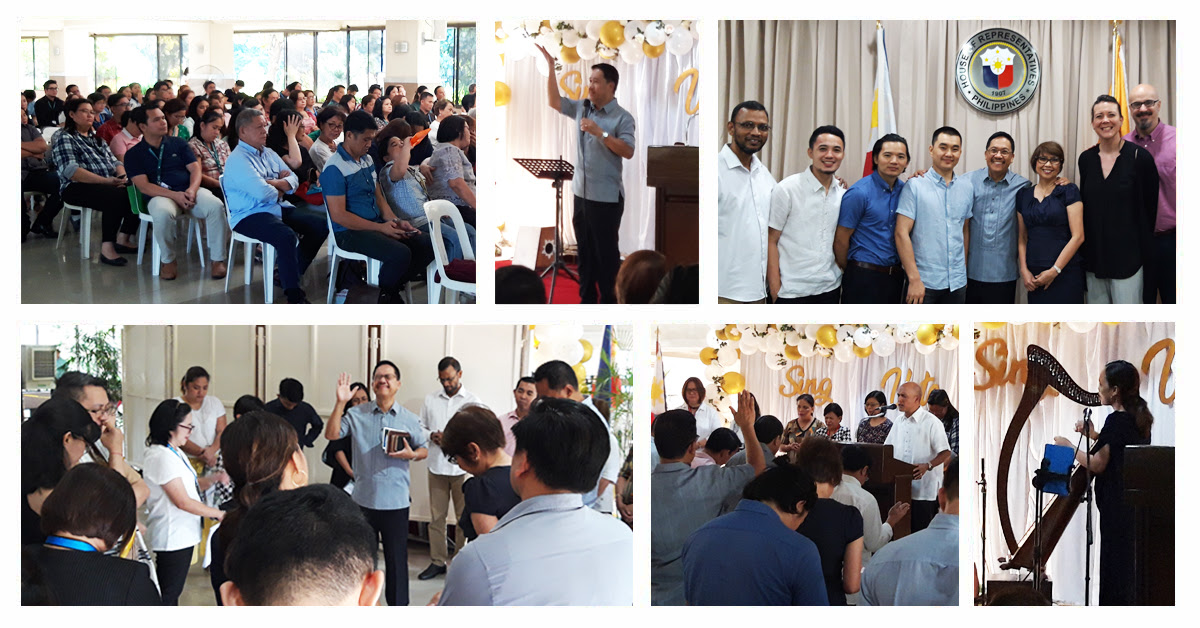 The most congested city in developing Asia. The sixth most corrupt country in the world. National dengue epidemic. Resurgence of polio. Controversial war on drugs. Yearly increasing national debt. Moral breakdown. Fastest growing HIV epidemic in Asia and the Pacific. Separated families. Brain drain. These are some of the issues that our country, the Philippines, is facing.
It's easy to fall into despair as can be seen in social media where rants and complaints abound. But how do we, as God's people, respond to all of these?
On October 8, 2019, the Christians in Congress Fellowship (CICF) celebrated the 112th anniversary of the foundation of the House of Representatives by holding an evangelistic worship service at the entrance hall of the South Wing Building in the Batasang Pambansa Complex. The freedom to worship God and share the gospel publicly in one of the prominent seats of power in the land is something that we can be thankful for.
As guest speaker, IGSL President Dr. Tom Roxas focused on Proverbs 14:34, "Righteousness exalts a nation, but sin condemns any people." After touching on the various problems we are facing as a nation, he zeroed in on the righteousness that only Jesus can give when we entrust our lives to Him.
Moreover, he said that God's people serving faithfully in the government, particularly those who have direct or indirect influence in lawmaking, are fulfilling an important role in Kingdom building. By upholding Christ's righteousness in public service and lawmaking, they are helping us "live peaceful and quiet lives in all godliness and holiness" (1 Tim 2:2b). They are instrumental in protecting the church's freedom to be salt and light and to fulfill the Great Commission.