---

A gathering of Christian philosophers, theologians, psychologists, sociologists, academic scholars, spiritual leaders, counselors, pastors, missionaries, community workers, & seminary students.
Reason • Experience • Science • Scripture • Church • Culture
__________________________________
Come and engage various research paper presentations by IGSL students who are part of the Master of Divinity course TS660: Asian Culture & Christian Ethics
OCTOBER 12, 2019 | 8:00 AM to 5:00 PM | IGSL Campus

PART 1: What It Means to Love the LGBTQ | 8:00 AM – 12:00 NN
PART 2: What It Means to Love the Poor | 1:00 PM – 5:00 PM
Registration Fee: ₱100
Bring or buy your own lunch.
OPEN TO ALL!

__________________________________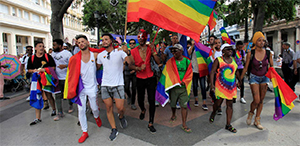 What It Means to Love the LGBTQ
The Church & the Issue of Homosexuality: Research Presentations by IGSL Students
October 12 (Saturday)
8:00 AM to 12:00 NN
The phenomenon of the LGBTQ movement not only provokes stong reactions, but also raises questions about what is real and questions about what is moral. Is it really the case that a person can be born with "the wrong body," or is the person who feels this way simply confused at the level of their mind? Should a person be allowed to use the bathroom that corresponds to their subjective gender identity? How should we regard same-sex marriage?
Differing answers to these questions tend to polarize people. Many claim that a person's gender is determined by the objective fact of their biological sex. Others claim that the objective facts of biology do not determine gender identity. In fact, all objectivity should give way to a person's own subjective perception of their gender.
In light of such a divide, and the social, medical, political, and legislative changes being wrought by the widespread acceptance of LGBTQ claims, Christians have an urgent need to search the Scriptures carefully and prayerfully to see how God would have us think about and respond to such revolutionary developments. The main purpose of this forum is to help believers in examining biblical data and come up with a Christian response. We also intend to clarify key terms that are part of the current discussion and to probe into the cultural impact of the on-going debates.
__________________________________
What It Means to Love the POOR
The Church & the Issue of Poverty:
Research Presentations by IGSL Students
October 12 (Saturday)
1:00 PM to 5:00 PM
Poverty is one of the major causes of violence and crime in society. Poverty breeds a culture of corruption and low standards of morality. Poverty is an embarrassment to the relevance and mission of the Church in society and to the testimony of the gospel. Amidst the grinding poverty in Third World countries, what is the appropriate Christian response to the poor?
Since the birth of the Social Gospel movement in 1876, Christians have been divided over the issue of what role should believers have in alleviating poverty and human suffering.
For Christian liberals, believers are obligated to help the poor, fight structural evils, defend the oppressed, and liberate society from all forms of social injustice until God's kingdom is established on earth. Social action is evangelism in itself.
For Christian fundamentalists, believers are not obligated to address social issues (i.e. poverty, injustice, etc.) because the world will soon be destroyed anyway. Our priority is to evangelize the world and save as many souls as we can before Jesus comes back again.
Sometime later, a third view was affirmed at the First Christian Social Congress in 1891 and at the Lausanne Congress on World Evangelization in 1974.
For Christian evangelicals, believers have a duty to do evangelism and be involved in socio-political action as well. The message of salvation implies both redeeming the human soul and denouncing all forms of oppression and injustice in society.
Our theological assumptions on WHY people are poor will determine HOW we respond to the poor. Our paradigm determines our praxis. Cesar Molebatsi, a Christian leader in South Africa, expressed it well: "My deepest pain is that, in the very continent where the Christian church is growing the fastest and where so many countries are inhabited by Christians, we see rampant racism, ethnic violence, AIDS, corruption and increasing poverty. What kind of Christians are we creating?"

S H A R E