---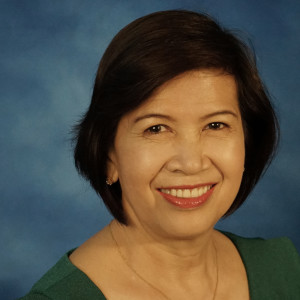 TEACHING AREA
Marriage and Christian Parenting
EDUCATION
PhD in Holistic Child Development – Asia Graduate School of Theology based in Asia-Pacific Nazarene Theological Seminary (Ongoing)
MA in Counseling – Koinonia Theological Seminary
BS (Pre-Medicine) – University of the Philippines, Diliman
Evelyn Pajaron has been a Philippine Campus Crusade for Christ (PCCC) staff member for more than 41 years. She has occupied various leadership positions ministering to women when she was still single. She also served as Great Commission Training Center (GCTC) trainer in the Philippines from 1978 to 1981 and in Korea from 1981 to 1983.
Apart from teaching in at IGSL, she is involved in the Family Track of 4/14 Pilipinas, a movement that ministers to children and youth aged 4-14, as well as with Transform World South East Asia.
Together with her husband, she pioneered FamilyLife Philippines in 1996, and they continue to equip couples with practical and scripture-based approaches to real-world issues through this ministry.
For her, ministering to the family strikes at everyone's heart for we are all part of and product of our family life and experiences. She puts forward that every seminary should present a biblical theology of marriage and of the family as a base from which to minister effectively in the field.
Bing, as she is known to many, is the co-author of Parenting Teens: A Parent's Practical Guide to Raising Today's Teens and a contributor in Women of Significance: Devotions for Women and Women of Worth: Devotions for Women.
She is married to Dr. Teody Pajaron, and they are both from Davao City, Philippines. They have two children, Charissa and Hesedel, and three grandchildren, Danielle Sophia, Keziah Charis and Zachary Israel. Bing enjoys an active lifestyle by playing basketball and exploring new places. She has climbed Mt. Apo, the highest peak in the Philippines.  She also likes pursuing knowledge and reading.
Send Message To: Evelyn Pajaron